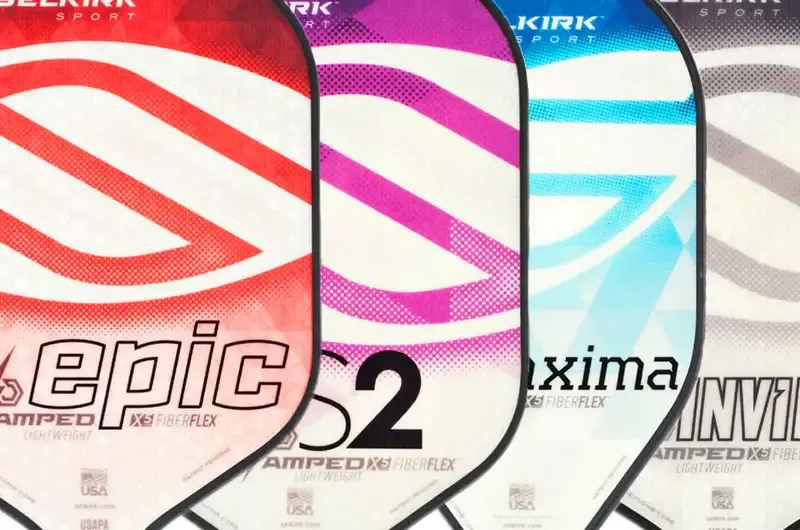 The AMPED Family of High Performance Pickleball Paddles
Power + Control…the two most desired characteristics in a paddle.
Previously, Pickleball paddle manufacturers had to design paddles that either had power or control, not both. By focusing on one aspect, they had to sacrifice the other.
Selkirk didn't want to compromise. The AMPED series was engineered to amplify both aspects without compromising! It is the ultimate combination of power and control. The AMPED series pioneers an entirely new technology in the Pickleball industry with its FiberFlex Fiberglass face and patent pending thicker X5 polypropylene core. The revolutionary thicker paddle core provides an unparalleled degree of power and control along with many other performance benefits, like:
Torque suppression – no more twisting, giving your more feel and control
Neutralizing ball differences – no more switching paddles between indoor and outdoor balls!
Vibration dampening
Improved sound
Larger sweet spot
More spin potential
Unbelievably well-balanced
The AMPED family of paddles comes in a variety of sizes and two different categories of weight. The lightweight paddles are popular with racquetball, table tennis, or squash players, and is recommended for beginners or intermediate players with no racquet/paddle sport experience because of the increased maneuverability. The midweight options offer more power, are popular among tennis players, and is recommended for singles.
About Selkirk
Selkirk si family-owned business in the beautiful area of Coeur d'Alene, Idaho, crafting all of their paddles right here in the United States. The company takes it name after the Selkirk Mountains, which can be seen right outside our facility doors.
Selkirk has dedicated themselves to crafting high-performance Pickleball paddles in the industry. We are committed to innovation and quality in both our designs and craftsmanship. Selkirk Sport first launched in 2013 when brothers Rob and Mike Barnes, along with their dad Jim Barnes and father-in-law Russell Heistuman, put their diverse skill sets together to create high-performance Pickleball paddles.
Learn more about Selkirk here.